Biomechanics
Learn how the laws of mechanics apply to physical functions and musculoskeletal health
Tuition Fee
Now $99 with Promo Code BIM17
Biomechanics
Learn how the laws of mechanics apply to physical functions and musculoskeletal health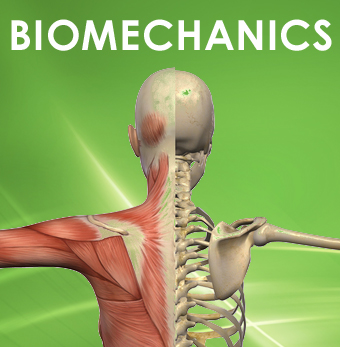 Course overview and learning objectives
"Bio-mechanics" is the study of the mechanics of a living body, and the forces exerted by muscles and gravity on the skeletal structure in order to produce movement. This course provides fundamental knowledge in understanding how the joints and muscles of the human body interact during motion.
LCO's Biomechanics course starts with a comprehensive review of musculoskeletal anatomy. Concepts of statics and dynamics for human activities as well as the mechanics of tissues help build an understanding of the principles of biomechanics. Special emphasis is placed on the advanced anatomy, mechanical properties and structural behavior of the spine and major joints.
Main topics include structure and function relationships in tissues and organs, the application of stress and strain analysis to biological tissues, analysis of forces in human function and movement, as well as energy and power in human activity. 
At the completion of the study, you will be able to develop a safe and cohesive practice for clients with special needs (i.e. post injury recovery, joints or muscular problems, or degenerative spinal conditions).
Course curriculum
Biomechanics is an online course delivered through 3 interactive lectures, covering 'structure' and 'function' relationships in tissues and organs, fundamentals of human kinetics/biomechanics, analysis of forces in human motion, as well as energy and power in human activity. At the completion of Biomechanics you will acquire knowledge of
Biomechanics of Skeletal Muscle
Biomechanics of Skeletal Articulations
Biomechanics of Upper and Lower Extremity
Biomechanics of the Trunk and Spinal Column
Materials:
Recorded lectures, printable presentations, handouts, readings
Online Textbook Provided:
Basics of Biomechanics by Margareta Nordin
Evaluation:
3 quizzes. Final exam. Passing Grade is 70%.
Course Reviews
Concise and very informative course. I liked the ability to download and print the lectures and study at my own pace was very nice.
I liked that the course explained challenging concepts in a clear and concise format. It made it easy to absorb new information and learn a lot.
Very good course! Watching video tutorials was most helpful in understanding the basics of biomechanics.